Pumps, filters, agitates, and treats electroplating, anodizing, printed circuit, low-sludging iron phosphate and allied metal-finishing solutions.
Using in-tank filtration, the Flo King pump body and filter cartridge are submerged in the solution to be filtered. Solution is drawn by vacuum through the filter cartridge, travels a short distance, and is immediately expelled at a high flow rate from the pump Discharge Port.
This create a "free" source of agitation that is clean and benefical for electroplating and other metal-finishing processes. And since solution never leaves the tank leaks and spills are eliminated.
All standard Flo King system feature a Teflon-coated stainless-steel shaft so that no metal parts are in direct contact with solution.
Titanium and Hastelloy C276-alloy shafts are also available.
Depending on the model, you can pump 1000 to 19,000 lites/hour. This configuration is useful when your sole objective is to recirculate a solution, without filtration.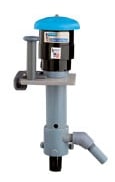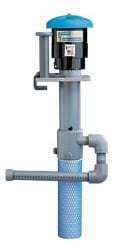 Flo King agitates and filters at the same time. On the Discharge Port, where solution is expelled from the pump, you can use High-Flow 45- or 90-degree elbows to direct the agitation as desired.
Insert a filter cartridge to remove dirt, particulates and other solids. No tools are required. Hand Loosen the Filter Screws, twist the cartridge into the pump, and hand - thighten the Filter Screws.
You can remove organice contaminants,including brightener breakdown products, maskants, photoresist, over additions of brighteners, and small amounts of lightweight oil.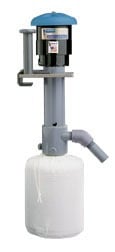 The most popular and simplest configuration is shown here. Just mount the pump in the corner of the tank, poin the Elbow on the Discharge Port at a slight downward angle toward the long tank wall and filter away!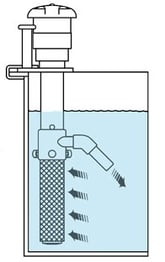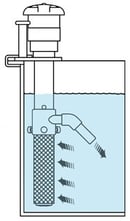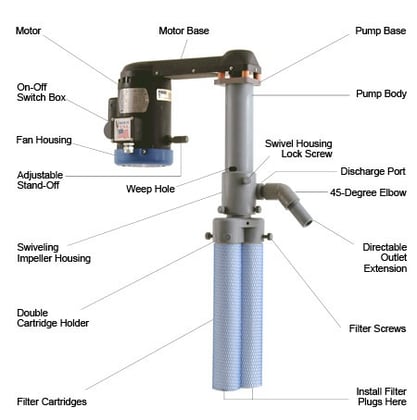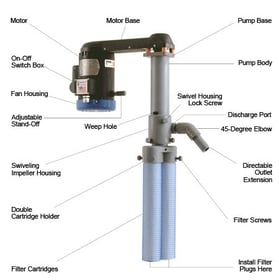 Remember, filtration is only half the battle in removing particulates. Agitation is the other half. Without effective solution movement, many particles may fall to the tank bottom, escaping entrapment by the filter cartridge.
The "counterflow" agitation motion promotes uniform temperature and chemical composition, while keeping particles suspended for quick-capture filtration.